Git and GitHub Tutorial Introduction¶
This book is published online at https://pslmodels.github.io/Git-Tutorial/ using Jupyter Book as its publishing engine. The source code for this book is publicly available in the GitHub repository https://github.com/PSLmodels/Git-Tutorial, and users are encouraged to submit pull requests with contributions and corrections. All content is licensed under the Creative Commons Attribution Non Commercial Share Alike 3.0 license.
This Git and GitHub tutorial grew out of training needs that constantly recurred and overlapped in our collaborative circles. We would need to train any new collaborators on Policy Simulation Library incubated projects on the Git and GitHub workflow we used. Since 2013, the authors have been training students, faculty, policy makers, other researchers to collaborate on research and code using Git and GitHub. Until now, the materials we would use to train our collaborators were pieced together from a number of great sources. This book represents the consolidation of those resources and our experience together in one place.
Two warnings that a seasoned Git and GitHub user should always give a new entrant to this type of version control and code collaboration are the following.
The learning curve is steep.

The workflow initially is not intuitive.
These two obstacles seem to work together to make this form of collaboration harder than the sum of their parts initially. However, once you begin collaborating on open source projects or on large-group academic or research projects, you start to see the value of all the different steps, methods, and safeguards invoved with using Git and GitHub. Figure 1 below is a diagram of the main pieces and actions in the primary workflow that we advocate in this book. You will notice that a version of this figure is the main image for the book and is also the favicon for the tabs of the web pages of the online book. This figure of a Git and GitHub workflow diagram looks complicated, but these actions will become second nature. And following this workflow will save the collaborators time in the long-run.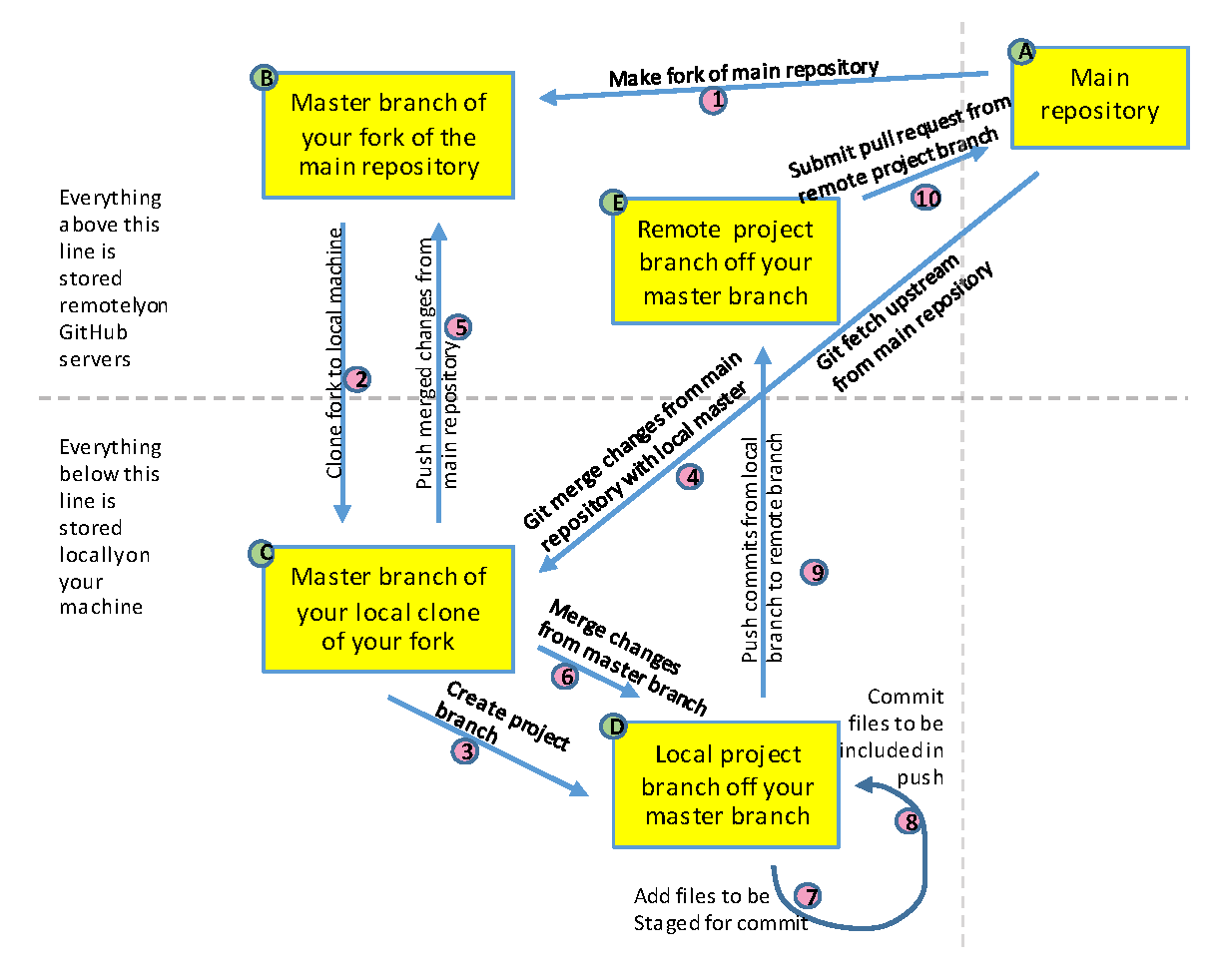 Brief definitions¶
Before we move on with the introduction and the rest of this book, we want to give the reader a quick reference, definition, and comparison of Git and GitHub. We will spend entire chapters on these two topics in Version Control and Git History and History of GitHub. But we want to give a brief reference here at the beginning. A full Glossary is included in the Appendix of this book.
Definition: Repository
A repository or "repo" is a directory containing files that are tracked by a version control system. A local repository resides on a local machine. A remote repository resides in the cloud.
To be clear at the outset, Git is the version control software that resides on your local computer. It's main functionalities are to track changes in the files in specified directories. But Git also has some functionality to interact with remote repositories. The ineraction between Git and GitHub creates an ideal environment and platform for scaleable collaboration on code among large teams.
Wide usage¶
Every year in November, GitHub publishes are report entitled, "The State of the Octoverse", in which they detail the growth and developments in the GitHub community in the most recent year. The most recent State of the Octoverse was published on November 6, 2019 and covered developments from October 1, 2018 to September 30, 2019. Some interesting statistics from that report are the following.
more than 40 million GitHub user accounts

more than 100 million code repositories
Alternatives to GitHub include GitLab, Bitbucket. Other alternatives are documented in this June 2020 post by Software Testing Help. But GitHub has the largest user base and largest number of repositories.
Other great Git and GitHub resources¶
Prior to writing this book, the authors pieced together training materials from some great resources. We highlight these resources here both to document what many of our ideas are built upon and to recommend resources that should be used concurrently with this book.
Open source, Policy Simulation Library, research, and collaboration¶
Finish this preface with a big-picture discussion of where Git and GitHub fit in the broader open source, policy, research, collaboration setting. Discussion of PSLmodels goals, scalable collaboration, precise attribution, open source ethos, heirarchical protection of code, testing, documentation, best practices, harmonization of convention, ease of participation, modularity, crowd sourcing contributions.
Outline of book and exercises¶
In the online version of this book, the table of contents can be toggled to be visible or not visible by clicking on the arrow at the upper-left corner of the main text column of each page. The book is divided into six parts, each of which has sub chapters.
Introduction
The contribution of this book to the large body of Git and GitHub references is to bring together in one place the tools and specific instruction for a beginning to move up the Git learning curve as quickly as possible. This is the only resource we know of that combines Git and GitHub functionality and usage with the tools of open source repository management. This is the guide that we wish we had had when we were learning to collaborate with Git and GitHub.
We have also include exercises in some of the chapters. Chapters ? have some of the most important exercises. These are meant to give the user hands on experience with the issues that often come up in collaborating with Git and GitHub.